Ultimate Alaska & Canada Rockies Nb 25 (CruiseTour)
on Celebrity Millennium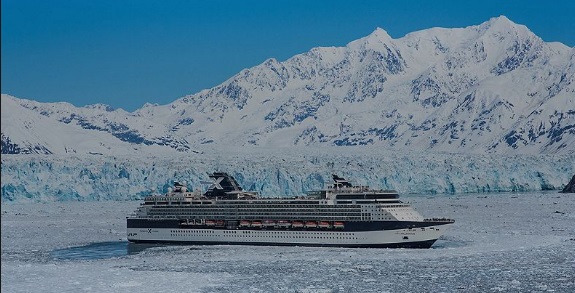 A favorite of many vacationers, Celebrity Millennium® was "Solsticized" in May of 2012 and emerged with many award-winning Solstice Class features. She's been renewed with spa-inspired AquaClass® staterooms, the AquaClass signature restaurant, Blu, and the addition of verandas to her chic Celebrity Suites.
About Celebrity Millennium

Celebrity Cruises' iconic "X" is the mark of the world's top–rated premium cruise line, with spacious, stylish interiors; dining experiences elevated to an art form; personalized service, with a guest–to–staff ratio of nearly 2:1; unexpected, trendsetting onboard activities, all designed to provide an unmatchable experience for vacationers' precious time. Celebrity sails to Alaska, Asia, Australia/New Zealand, Bahamas, Bermuda, Canada/New England, the Caribbean, Dubai & India, Europe, Hawaii, th
...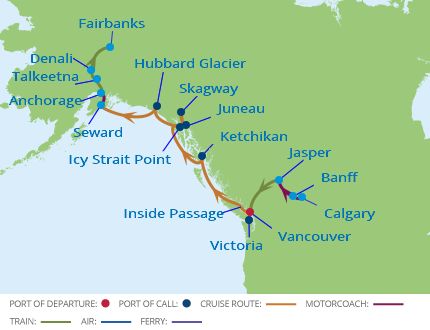 | Day | Port | Arrive | Depart |
| --- | --- | --- | --- |
| 1 | Calgary, Alberta | | |
| 1 | Calgary, Alberta | | |
| 2 | Calgary, Alberta | | |
| 2 | Banff, Alberta | | |
| 3 | Banff, Alberta | | |
| 3 | Jasper, Alberta | | |
| 4 | Jasper, Alberta | | |
| 5 | Vancouver, British Columbia | | |
| 6 | Vancouver, British Columbia | | |
| 6 | Victoria, British Columbia | | |
| 6 | Vancouver, British Columbia | | |
| 7 | Vancouver, British Columbia | | |
| 7 | Vancouver, British Columbia | | 4:30 PM |
| 8 | Inside Passage (Cruising) | | |
| 9 | Ketchikan, Alaska | 7:00 AM | 3:00 PM |
| 10 | Icy Strait Point, Alaska | 10:00 AM | 8:00 PM |
| 11 | Juneau, Alaska | 7:00 AM | 9:30 PM |
| 12 | Skagway, Alaska | 7:00 AM | 4:00 PM |
| 13 | Hubbard Glacier (Cruising) | 7:00 AM | 11:00 AM |
| 14 | Seward, Alaska | 5:00 AM | |
| 14 | Seward, Alaska | | |
| 14 | Seward, Alaska | | |
| 14 | Anchorage, Alaska | | |
| 14 | Anchorage, Alaska | | |
| 15 | Anchorage, Alaska | | |
| 15 | Talkeetna, Alaska | | |
| 16 | Talkeetna, Alaska | | |
| 16 | Denali, Alaska | | |
| 17 | Denali, Alaska | | |
| 17 | Denali, Alaska | | |
| 18 | Denali, Alaska | | |
| 18 | Fairbanks, Alaska | | |
| 19 | Fairbanks, Alaska | | |
| 19 | Fairbanks, Alaska | | |
| 20 | Fairbanks, Alaska | | |